This article is intended to assist if you want to allow your client to view all or part of what is on your screen during an online session.
Screen Share is currently supported on all web browsers* on PC/Mac. It is not currently available on Apple/Android tablets or phones
*Safari for Mac has limited support for screen sharing, if you intend to use Screen Share as part of your therapy practice then we recommend using Chrome or one of the other browsers that has fully supports this capability
The instructions and screenshots below are for Chrome but the steps are almost identical in other browsers (the labelling of options may be a little different)
Your clients can also share their screen with you using the below steps.
Activate Screen Share #
To activate Screen Share select the option at the bottom right of your screen (see screenshot below)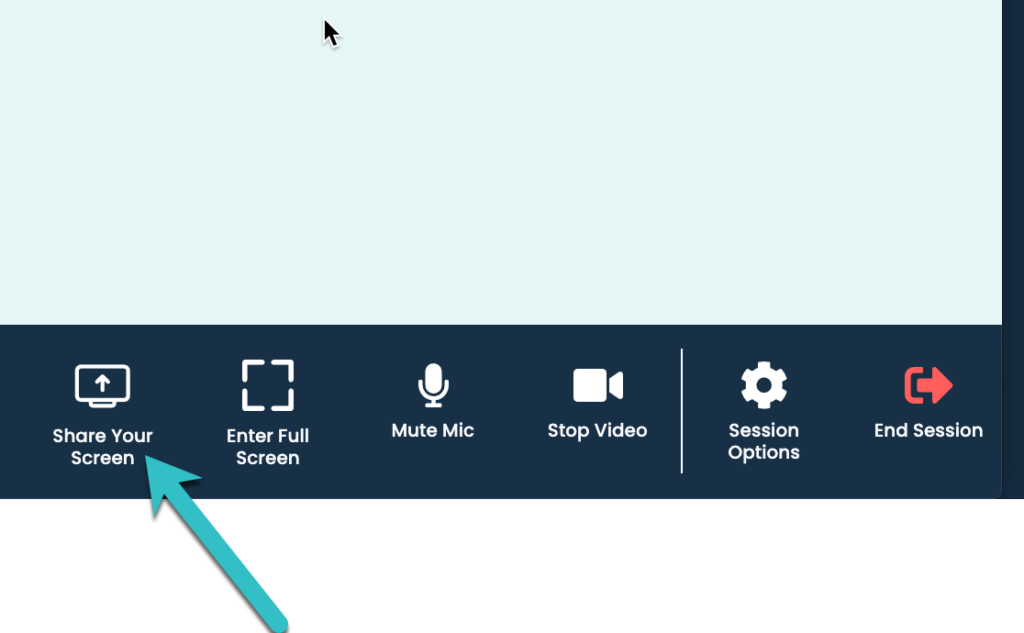 Select What To Share #
Now select which part of your screen you wish to share. Some users avoid using Screen Share because they are not confident about what their client will be able to see and they don't want to show anything that may be private (or be embarrassed about how many icons they have covering their screen). There are a number of ways that you can precisely control what you are sharing with your client.
(Tip – If you want to be sure about what your client will see then, the why not ask a friend or colleague to act as your client. Send them a session link and then try sharing your screen with them. You can also so this by using another device, e.g. your phone to act as your client's device)
Sharing Options #
Entire Screen – this will share everything on your screen and so offers the lowest level of control/privacy
Window – Window really means programs on your computer. So if you've got for example, a PDF you want to show your client that you have open in Adobe Reader, then by selecting this option, your client will only be able to see the PDF and nothing else on your screen. This is still the case even if you switch to another program while sharing your screen. So for example, if you're in a session with a client, you are sharing your screen and have selected to share a PDF. Even if you were to quickly open up you email program to look at something, this would not appear on your client's screen.
Browser Tab – Browser tabs are the little labels, usually across the top of your browser window that allow you to easily have multiple webpages open at once. If you select to share a particular browser tab then that is the only thing that your client will see from your screen screen, even if you switch to another browser tab or program while Screen Share is activated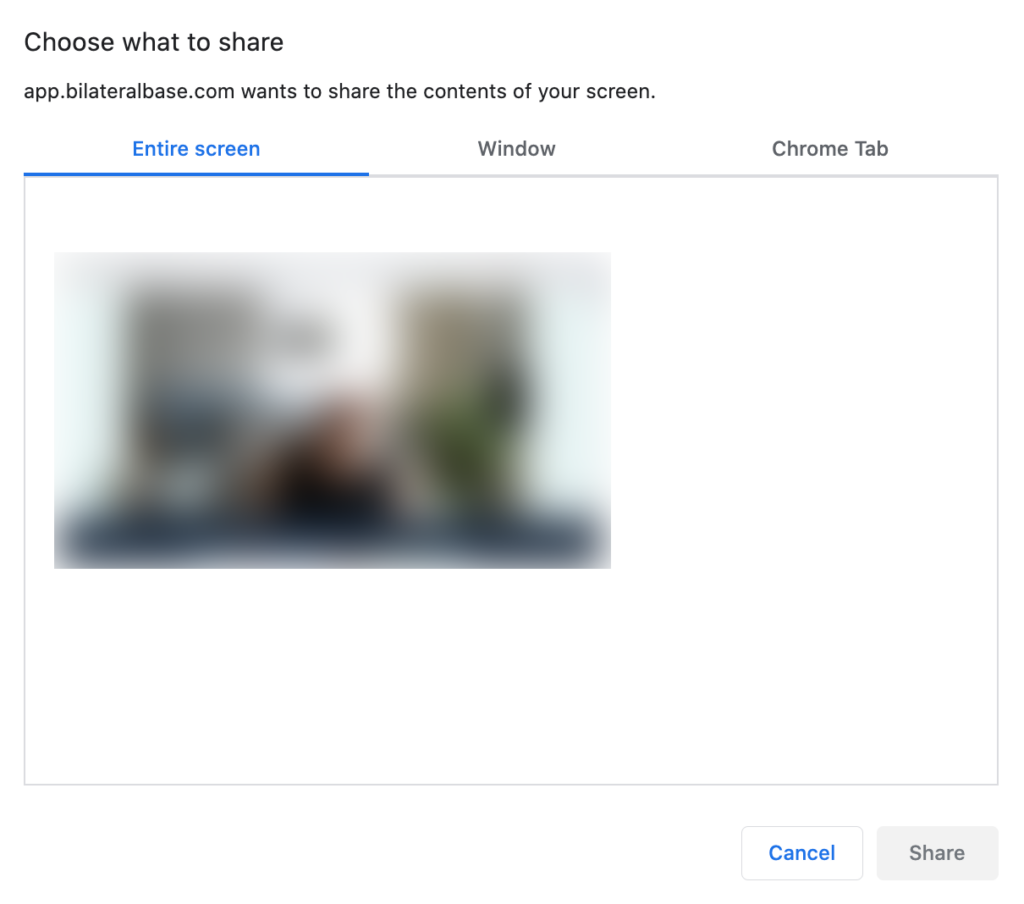 Seeing Your Client While Sharing Your Screen #
A common request is to be able to see your client while also viewing and sharing a document on your screen.
Share your screen (or a program or browser tab) as detailed above
Then 'right click' on the video of your client and select 'Picture In Picture'
The video of your client will now float over the top of everything else on your screen so you can now view the PDF (or whatever you want to share) and drag the video of your client around the screen so can see them as well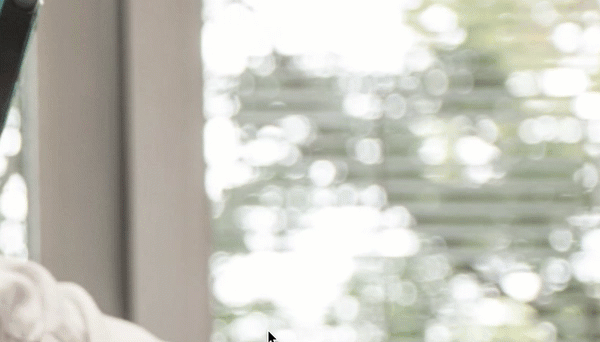 Returning Client Video To Session Interface #
To stop the video of your client floating over everything else on your screen and return it to it's usual place within the Bilateral Base session, hover your mouse over the video of your client and click 'Back to tab'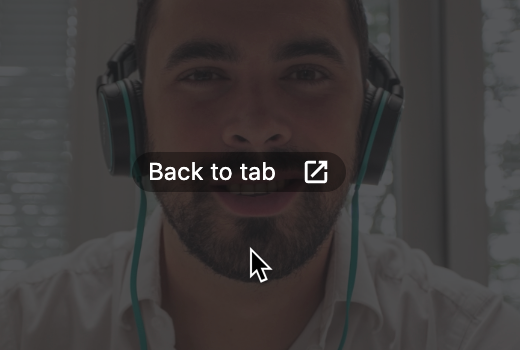 Stop Sharing Your Screen #
When you've finished sharing your screen select 'Stop Screen Share'. Anything you were sharing with your client will no longer be visible to them.

Can my client see me while I am sharing something with them? #
Not currently, but we will be adding this feature in so that your client can see you and the document you are sharing. We have found that most therapists prefer to keep their client focused on whatever they are sharing with them, however we do recognised that there are times where your client may prefer to maintain that connection with you at all times and so we will be adding this in soon.
Please send us a message if this is relevant to you as it will help us prioritise what are technology team are building into the platform.