When you start working with a new client, you first need to create a profile for them.
This will create a secure reusable link that your client can use to join all their sessions.
Steps to Add a New Client:
Go to the Practice Manager (this is the first page you will see after you log in)
Select 'Add Client'
Enter your client's name or an identifier such as their initials or an I.D. number
Then select whether you would like your client to see guidance on how to set up their device for auditory BLS at the start of their sessions. In most cases auditory BLS will require no additional setup but there are some device/headphone combinations where a small settings change may need to be made. The guidance will talk your client through doing this and help ensure everything is ready to go before they join a session.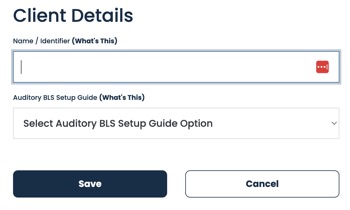 Select 'Save' to add your client to the platform.