Bilateral Base enables therapists to securely record their sessions e.g. as part of supervision/accreditation.
This guide will show you how to:
Record an online therapy session
Save the recording at the end of the session
View the session recording
Share the recording (e.g. with your supervisor)
How to Start Recording #
Select 'More Options' in the session console.

When you start recording, your client will see a message on their screen to let them know.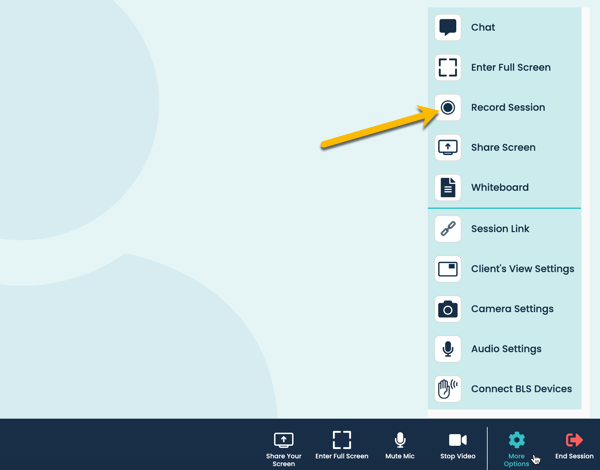 How to Stop Recording #
When you are ready to stop recording:
Select 'More Options
Select 'Stop Recording'
Once you have stopped recording, the file will will be processed and compressed. When this has been done you will receive an email to let you know that the recording file is ready to be downloaded to your local computer.
An hour of recording will use ~500mb (0.5gb) of disk space.
If you forget to click stop recording, or you close your browser window without clicking stop recording don't worry, the platform will automatically detect that the session has finished and save the recording.
As part of our policies to protect your data, the recording will be available to download for 3 days. It will then be deleted, so please ensure you download it within this time.
How to view a recording #
Your recording will be saved in the .mp4 video format. This can be played on almost any device. Simply click on the downloaded file and it will play in your default media player.
How to share your session recording #
Once you have downloaded the file onto your local computer, you then need to have a way to securely share the recording.
(Please note that the email containing the download link shouldn't be forwarded to other people as the download link requires you to be logged into your account.)
Here are some suggested ways that you can safely share your file with a trusted recipient:
Method 1 – Using a cloud storage space like Google Drive, Dropbox, or OneDrive is one of the easiest and most popular methods for securely sharing large files.
Method 2 – WeTransfer.com is a simple, free service for transferring large files and you don't need to create an account
If your client is using the app for iPad/iPhone, session recording is currently disabled. This will be activated very soon.